THE SYRIA-TURKEY EARTHQUAKE
 What is Earthquake and how does it occur?
The outermost layer of the Earth's crust consists of constantly moving tectonic plates which are in continuous sliding motions and collide with one another. The crust along the plate margin stores elastic energy which is generated due to the collision of tectonic plates and then is suddenly released as an earthquake when the strength of the earth exceeds.
 The plates can collide with one another such as between Arabia and Anatolia or they can slide sideways such as on the San Andreas faults. Turkey lies at the intersection of these plates. According to Martinez-Garzon, this earthquake was the result of decades of slow lateral motion around 1.5 cm i.e almost around 0.6 inches per year, between the Arabian and Anatolian plates which caused tension to build up along the fault.
 Epicentre is the point at the Earth's surface where the sudden release of energy takes place and the energy travels in the form of seismic waves. The epicenter of this earthquake was located in central and southern Turkey, but effects were felt across both countries.
Earthquake in Syria & Turkey and its impact on the affected areas:
 On 6 February 2023, a massive 7.8 earthquake struck southern and central Turkey and northern and western Syria. It was followed by another major 7.7 earthquake nine hours later. The main shock was the strongest earthquake in Turkey since the 1939 Erzincan earthquake of the same magnitude. There were at least 57 aftershocks after the 9 hours of the mainshock.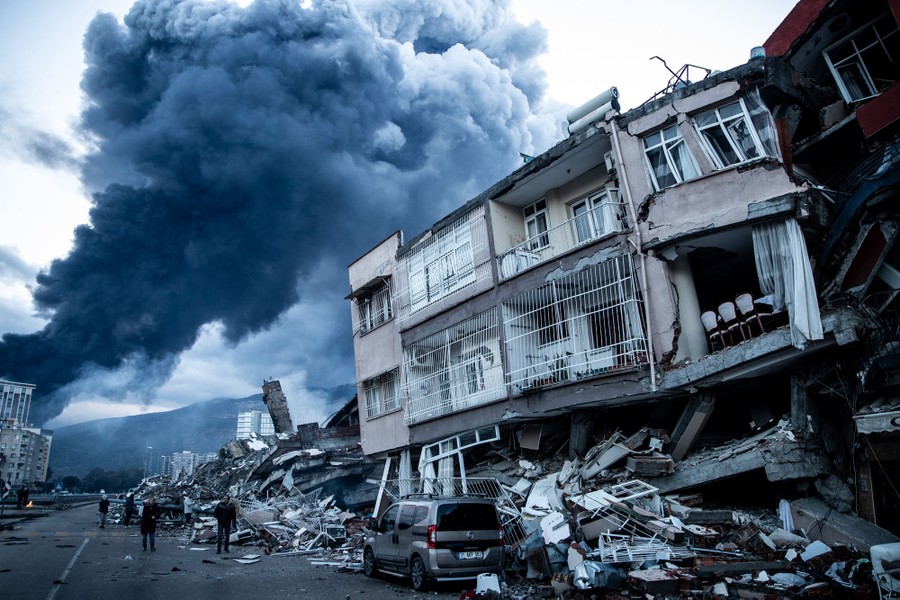 The disaster came at a time when the affected areas were already facing significant challenges, including on going conflicts, refugee crises, and economic hardships. The earthquake added to these difficulties, leaving many people homeless and in desperate need of assistance.
 Devastating events, such as earthquakes, can trigger painful emotions for people connected to the countries involved. The combined death toll in Turkey and Syria passed 55,000, including more than 44,000 in Turkey and over 6,000 in Syria. 
 In northwest Syria, the hardest hit area of the country, 4.1 million people already depend on humanitarian assistance. The UN estimates that 8.8 million people live in areas most affected by the earthquake in Syria. Overall, 170 sub-districts in 43 districts of Syria have been impacted by the earthquake. Before the earthquake, more than 15 million people in Syria were already in need of assistance in 2023.
Aids in the recovery process:
 The earthquakes that struck Syria and Turkey caused significant loss of life and damage to property. However, various efforts have been made to assist those affected and aid in the recovery and rebuilding process. Some of the steps taken include:
1. Responding to the emergency: The immediate response to any disaster is critical, and it involves providing urgent assistance to those affected, such as medical care, shelter, and food.
2. Conducting rescue operations: Rescuing and searching for those who are trapped or injured is a vital component of the recovery process.
3. Repairing infrastructure: Following a disaster, infrastructure such as roads, bridges, and buildings may suffer damage or destruction. Therefore, it's necessary to repair and rebuild the infrastructure, which is crucial for the recovery process.
4. Providing psychological support: Survivors of natural disasters may experience trauma and emotional distress, which can be as debilitating as physical injuries. Providing psychological support to these individuals is critical in helping them cope with the emotional effects of the disaster.
5. Offering aid and donations: Assistance and donations from various sources such as individuals, organizations, and governments can also expedite the recovery process. This assistance can come in many forms, such as monetary donations, food, and supplies, or volunteers to assist in recovery efforts.
 Operation DOST :
 Operation Dost was launched by the Indian government to provide aid to Turkey and Syria after a devastating earthquake hit both countries on February 6th, 2023. Turkey's envoy, Firat Sunel, praised India for being one of the first countries to offer assistance. The operation was fraught with personal and professional challenges for the National Disaster Response Force (NDRF), whose members sacrificed their personal lives to aid those in need.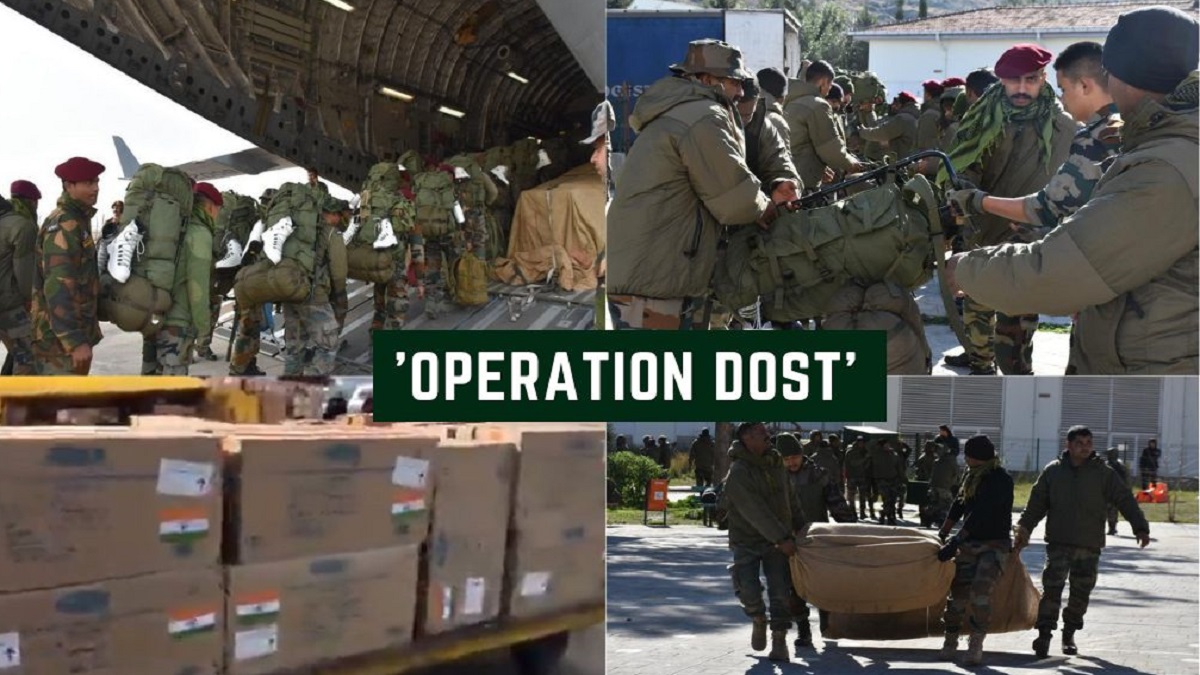 One paramedic, for instance, had to leave her 18 months old twins behind to serve on the mission. Additionally, officials processed hundreds of documents to prepare over 140 passports overnight. Rescuers were unable to bathe for ten days due to the nature of the mission.
 Despite these challenges, the Indian Army managed to prepare its rescue teams with relief materials within 12 hours of the earthquake. The government provided roughly 7 crore worth of relief materials to both countries.
 When the NDRF teams returned to India after the mission, they were left wondering if they could have done more to save lives. However, they were also filled with the love and affection they received from the people they helped. One Turkish national, who had lost his wife and three children in the earthquake, made sure Deputy Commandant Deepak received vegetarian food wherever he was deployed. Many Turkish citizens expressed their gratitude to their "Hindustani" saviors, shedding tears of appreciation for the help they received.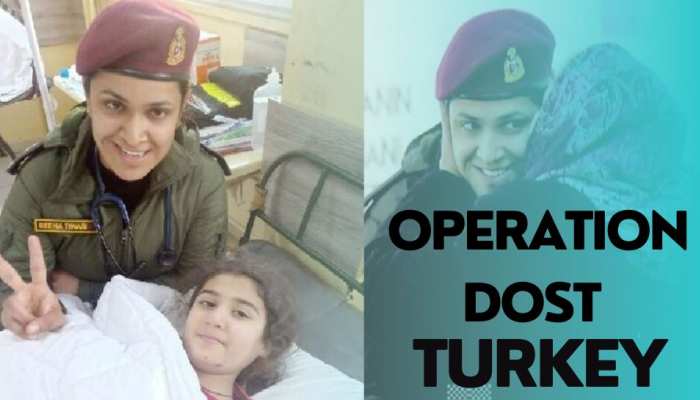 The result of Earthquakes can be dangerous and can result in serious harm to mankind. Even though scientists have tried to predict these natural disasters, they have been unable to do so. People living in earthquake-affected areas should be attentive and ready to face them and should work in peace and understanding in case of such a problem.
Overall, the recovery process from a natural disaster like an earthquake can take time and it may be challenging for those affected. People affected by disasters can begin to rebuild their lives and communities with the help of emergency responders, rescue workers, and other aid workers.